Last week, within the wee hours of the morning, an unexpected visitor strolled through the doors of the Odessa local department in Texas and hopped up onto the counter.
It was a friendly dog who seemed wanting to let officers know of an event ongoing — that a particular someone had gone missing from home
He, himself.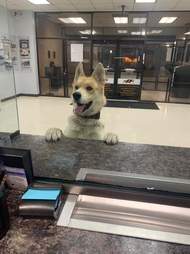 Sergeant Rusty Martin was among the officers there to receive him, noting that the pup appeared none too distressed by his "lost dog" status. Mostly, he just seemed out for an honest time — and he got one.
"We were all excited to possess him within the building," Martin told The Dodo. "We had a ball and threw it within the lobby for a touch. Everyone loved on him."
Despite enjoying the dog's surprise company, those on duty didn't ditch the case he'd originally brought forward. Solving it, however, soon hit a snag.
The dog was wearing a collar, but the ID tag had apparently fallen off, so animal control was dispatched to return check for a microchip.
Before they arrived, though, things took a turn.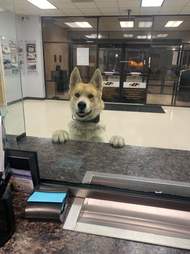 Evidently deciding he'd been "missing" long enough, the dog-headed back to his family, all on his own.
"He ran out even as quick as he came in," Martin said, having posted about the incident on Facebook. "The owner responded subsequent day [to say that] it had been his dog and he had returned home. He lives a few miles from the station."
The dog, who's named Chico, had cracked his first case — albeit one among his own design.
"I was impressed," Martin said. "He may be cut out for this work."
[Sassy_Social_Share]